HIGH MOUNTAIN ROOFING SERVICES
Welcome to Reno Roof Repair
Thank You, for visiting "

Reno Roof Repair

", we are your one stop repair shop.Repairing your roof is the green thing to do! 
We are a full service Reno Roofing Contractor. But our name Reno Roof Repair, is there for a reason. We specialize in roof repairs. Whether it be a Composition, Wood Shake, Wood Shingle, Tile, Metal, Flat Roof, we can fix. We are able to extent the life of almost any kind,type,shape of roofs. Most roofs can be fixed, of course some are not able to.

But if it can be fixed, we are the ones who can do it.

We have been repairing damaged roofs for 17 years. such as wind, snow, hail, rain, and just plain old worn out roofs. The estimate is free, call me at (775) 322-7003. You can also send us photos, of your roof. we can give you a guesstimate.
Don't be discouraged, every time you drive up to that old damaged roof. Don't wait, give us a call. Let us give you that piece of mind back again. We can typically come close to the old color. But a perfect match is almost impossible due to the shingle fade, and the same color probably will not be available anymore. We will do the best that we can, to match your current shingles, as you can see in the picture.This roof was trashed, but we were still able to repair it, to allow the owner of the home to keep their mortgage insurance.They were threatening to cancel the insurance due to the roof. But we saved it!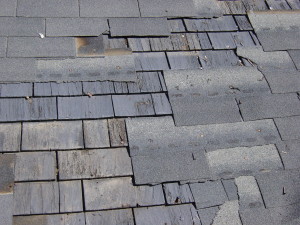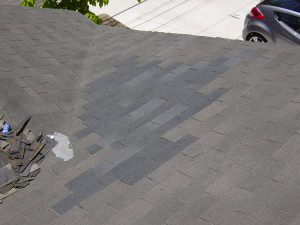 This was a wood shingle partial re-roof we did over on Plumas Street. We tried to save the owner money by repairing a little as we had too! You can see the barrel rolls, were quite complicated. The wood shingles had to be steamed bent to conform to the rolled over areas. We did quite a unique design, on the back side of the roof. All copper flashing's, to last as long as the wood shingles. There is only a hand full of roofing contractors left who are able to do this type of artwork, it is slowly dieing off do to the expense, and the new generation of roofers who don't want to learn the trade, unfortunately. But,as you can see we can fix just about any roof, that you have.
This was a tile repair we just did, see photo's below. It had an older style of a double edged tile, not like the single ones today. The brand was  Life-tile, which is no longer made. One of the biggest  problems with older tile roofs. Is the older type of felt paper that was being used, and the unavailability of the older tiles, that you can barely find to replace the tiles should you have any broken ones. Today's # 40 sbs felts, will last a lot longer than the older style # 30 felt. Which I will bet that 70%-80%, or more of the roofs that have been roofed in the Reno, Sparks areas, have all used a #30 felt. It is much cheaper to use. If you were roofing a housing track, and were trying to cut your costs, guess which felt is cheaper.
Read the article, click the tab, Quality Workmanship.
By cutting corners, and paying cheap labor, which is notorious on tile tracks, or any track for that matter.
A typical house you might save maybe, $150.00-$250.00 per house times , what 100, 200, 300 or more homes. You get the drift. I can't unequivocally state that every tile roof we did we used a  heavier sbs felt. Maybe when we first stated 17 years ago, but only a few. Once I did my homework, I changed over to the better felt. Lost a lot of work to my competitors, but I can sleep at night, knowing they are going to outlast me. Look at these photo's,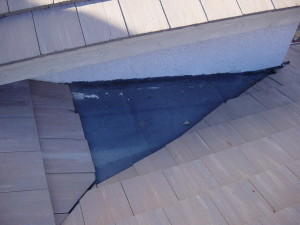 this roof was done in 1995. The # 30 was shot. It dries out,cracks, and just plain shrinks. This roofer did not use, a eave riser, or a shingle mold, to lift up the 1st course of tile that is needed, and required by code.
The ridge was not probably caulked. Each cut hip piece was sliding out, because it was not caulked so it would stay in place. The ridge board was not properly rapped. Just a terrible, and typical roof job, by a high volume cheap roofer. Every roof, in this track probably within, 20-30 years, or sooner. Will have to be re-roofed.As well as a lot of other tile roofs that used a # 30 felt. We had to redo the Torch down cricket area, as you can see. We had to tie into the older felt the best we could. As you can see we used the proper felt, the new # 40 felt.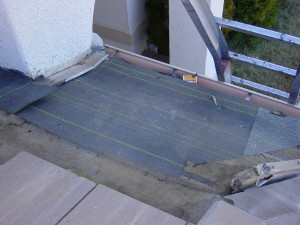 There was a lot more more involved then what I can explain. It took a lot of work. The felt, was capped nailed. The torched that was turned up the wall, had a termination bar installed. New batts, and Torch by Malarkey, made in Fernley, Nv.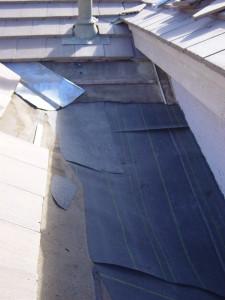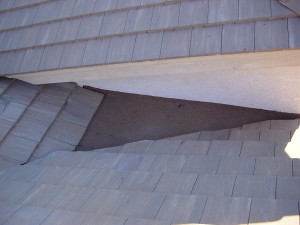 Here's the completed roof. As you can see we can fix your old worn out roof, more then likely. The less costly  way is too do the roof right the first time. There the cheaper way, then there's High Mountain Roofing Services way. Quality first, you get what you pay for. I hate to say it. But poor quality jobs like this one keeps us busy, we will never run out of work.
I personally have been roofing in the Reno, Sparks area since the early 70's.Long time resident, since 1968, this is our home! A+, at BBB, since we have been in business.

See our tab above, BBB. Also see our tab, Barter. We want to save you money any way we are able to. Let us help you get that new roof. One less thing to worry about, when winter comes.



Call us first, let us save you some of this! 
Please call, if interested; ask for David (775) 322-7003, EMAIL US
For more  About us, http://www.renoroofrepair.com/category/about
        HOURS OF OPERATION
  Day & Hours
Monday         7:00 AM to 7:00 PM
Tuesday         7:00 AM to 7:00 PM
Wednesday 7:00 AM to 7:00 PM
Thursday       7:00 AM to 7:00 PM
Friday              7:00 AM to 7:00 PM
Saturday        7:00 AM to 7:00 PM
Sunday                      Closed
Thanks again, for visiting "Reno Roof Repair", we are your one stop repair shop.Repairing your roof is the green thing to do!
Copyright © 2014 Reno Roof Repair.com